Sunny Apartments is happy to welcome you!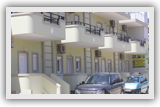 It's time for your vacation, and what about you are searching for is a place that could offer relax, a large number of beach, crowded or not?
Are you searching for a place in which it's not a mean of transport necessary ? do you really want to relax and enjoy your holidays?
Come alone or bring your family with you, stay here for a night or for weeks, stay here while on business trip or at some kind of conference - either way our hotel is the best possible variant.
Feel free to contact us anytime in case you have any questions or concerns. Then you are in the right side!

In Sunny Apartments you'll enjoy full your holidays, relax and last but not least unforgettable beach!
Sunny Apartments are situated not far from Makri Gyalos beach, and Koutsounari with a marvelous view at Liviko open-sea.


Special Offers
FREE WiFi Internet
FREE TV & Aircondition
FREE SunChears front of our taverna at the beache of Makrys Giallos.
Exclusive Break Fast and Menu at our Taverna
Location
We are located in the center of Makrys Giallos surrounded by Cafe - Bar and Tavernas.
Papadakis Ioannis

E-mail : info@sunny-apartment.gr
Phone : 30-28430-51743
Mobile: 6932049863
Fax : 30-28430-51743